Now aren't those the words everyone wishes that their bosses would say to them? The one day of the year that's all about you, the hard working employee, and what better gift to receive from your employer than the day off to enjoy it however you wish.
What do you think? Should this be an employee benefit/perk? In my experience, I've only known of a handful of people that have been given their birthday off. If you were given the day off, how and who would you spend it with? Remember that most of your family and friends would probably be at work.
"A person who feels appreciated will always do more than what is expected"
— Brian Tracy
Want to know what I did with my day off?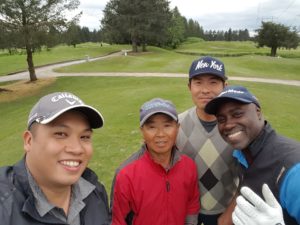 Would you have guessed any differently? I worked the first half of the day and took off the afternoon to golf.
Looking for a few extra "gifts" on your special day? Here's a list of some stores with great birthday deals or freebies. Please note that you will need to either sign-up for their mailing list or store card prior to the date of your actual birthday.
– Free dessert: Applebees, Boston Pizza, The Keg
– Free drink: Starbucks, Blenz Coffee, David's Tea, Booster Juice
– Food: Vera's Burger Shack, Red Robin's
– Beauty: Sephora, The Body Shop
– Clothing: RW & Co., Dynamite